Monarch Butterflies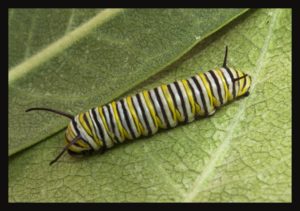 My Monarch started as a tiny green egg underneath a milkweed leaf. I found the young caterpillar not long after it hatched, brought it home on its leaf, and put it in a large well ventilated jar. I interfered in nature's natural progression for a couple reasons. Our eastern Rockies population is crashing…fewer every year. By taking it in I could save it from unfortunate weather events, and from parasitic wasps that lay their eggs in caterpillars. When the wasp eggs hatch, the larvae eat the caterpillars from the inside out. As it turned out we did have a day of snow and a freeze.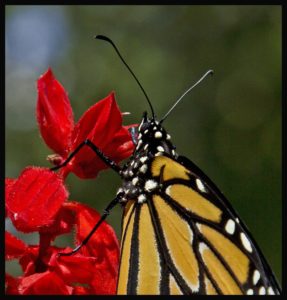 Monarch life cycles are different from other butterflies. The four stages are the same…egg, caterpillar (larva), chrysalis (pupa), and adult, but they also have four generations per year and make a long (as much as 3000 miles) migration. Most adults live 2 to 6 weeks as they find a mate, lay eggs, and then die. The fourth generation, born in September/October migrates south (ours go to the mountains of Mexico) and live 6 to 8 months.
This is the generation that emerges from a sort of hibernation in the spring, and start moving north; mating and dying along the way. The first generation continue the journey north, sometimes reaching their destination, sometimes letting the next generation get there. The second and third generations go through the metamorphosis process with the adults dying after a short time.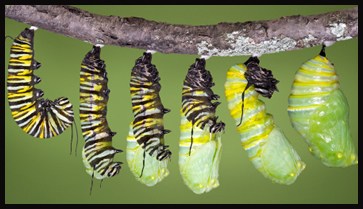 My Monarch (we named it Monty) was a fourth generation caterpillar happily munching milkweed leaves. It grew quickly and left piles of frass (poop) which I cleaned out when giving it more leaves. I missed the part where it spun a silken anchor and molted out of its skin which dropped to the bottom of the jar when it became a chrysalis. caterpillar-emergingI swiped these sequence shots from monarch.butterfly.com. Supposed to emerge 10 days later, we worried the green soup inside the chrysalis wasn't metamorphosing into an adult.
Finally, after 19 days the chrysalis started turning brown, and the next day my beautiful butterfly emerged. It took several hours to pump hemolymph (insect blood) into its wings which hardens and stiffens the wings.
It became apparent that Monty was really a Mona. Small dark dots are found on the hind wings of the males. The distinctive orange and black markings warn predators that these butterflies taste awful and are toxic, probably because of the milkweed that the larvae exclusively dine on. (Adults eat nectar.) Most birds know to leave them alone. Viceroy butterflies which are tasty, mimic the Monarch's coloration to keep predators at bay. A very sad footnote to this story is that several days later I found the front fore wing of my Monarch on the path to the creek. Apparently something, probably a young jay, got my beautiful Mona. The jay's mother probably hadn't taught it about Monarchs and Mona paid the price for the lesson. It's a tough world out there.