Ecuador III and final
In the last blog post I managed from Ecuador we were still on the west coast. It is clear now, the recent devastating earthquake may have destroyed much of what we saw. We are very sad for people affected by this temblor. Volcanoes were erupting in the Andes while we were driving north to catch our plane in Quito March 4th. In our hotel bed we felt and heard the rumbling coming from this active volcano about 30K away. Definitely a tectonically active area.
A few more pictures before leaving the coast. These near Machalilla Park.
Before we left the coast we joined park guides boating out to Isla de la Plata.
Sea turtles greet arriving guests at the island reserve. One must go with a group; private travel and camping on the island are prohibited. It is billed as the next best thing to the Galapagos. I wanted to see Blue-footed Boobies. While the Galapagos comparison is an enormous stretch, there were Boobies and Magnificent Frigatebirds.
Breeding season is over in April so the visible numbers weren't as impressive as earlier in the year. A couple of late nests still had young. After the guided hike, we snorkeled in warm, turbid water. The reef is hammered but there are some beautiful fish lingering near the shore rocks.
Leaving the coast isn't easy. You have to drive south through several beach tourist towns to Guayaquil, the major port city of Ecuador, before heading inland. It is dry scrub in that SW corner. Of course, we spent several hours driving in circles in Guayaquil (the map situation is dismal) before being rescued by a kind native who guided us out of the city with his car. We probably should have stayed there, it is purported to have a lovely city center. Turns out there are almost no overnight options between Guayaquil and Cuenca. We were shocked to see a magnificent hotel in a dump of a town, Puerto Inca, just when we were despairing.
Next day on to Cuenca through Cajas National Park. The clouds were so low and it was so cold, we just kept driving. (Freezing at the equator is a shock.) Later we returned to the lower section of the park for a lake stroll.
Cuenca is a lovely old Spanish city with narrow, cobbled streets, a lovely plaza with requisite cathedral, and horrid traffic jams.
The climate is mild, the higher Andes nearby, and the population mixed. There are many indigenous people, Spanish descendants, and ex-pat N. Americans. Carol liked it so much she may decide to move there.
In the surrounding countryside are many interesting smaller, agricultural communities. We chose Gualaceo to explore before taking the next side trip to Jima, a very small village with only one hostel.
And now, Jima…
Craig and I took a side jaunt further south to Zamora and the very wild and remote Podocarpus National Park. We stayed with a wonderful multi-lingual Belgian couple who have a lodge quite near the park entrance. The birds, insects and wildlife are spectacular.
Mixed flocks of colorful tanagers forage together.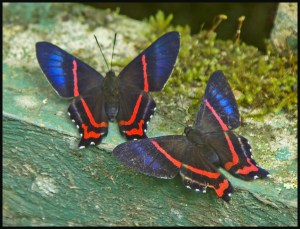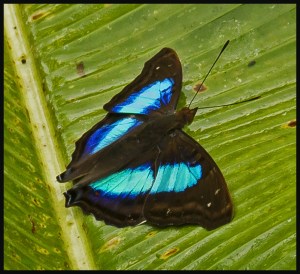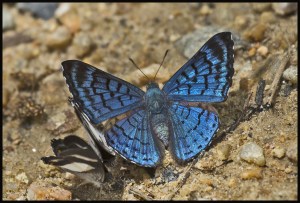 After the challenging trip back to Cuenca to pick up Carol…
(Our short-cut ended up being over a muddy 80K road under construction by a Chinese company so they could begin mining in the area. Chinese mining interests in the country are disconcerting. The vistas made the drive worthwhile.)
we drove back to Quito, turned in the car, got dropped at the airport to wait for our after-midnight departure.
Don't know if I ever mentioned that Ecuador uses only US money. All those dollar coins the Americans spurned are now the mainstay of Ecuadorian currency. It is handy not having to use a different monetary unit and bother with exchange rates.