Bobcats
So that isn't the end of the turkey story. Every time the turkeys wandered back through to check for spilled birdseed, there was one fewer. We started with nine and last we saw them (a few months ago) there were six.
We suspect this male bobcat, but of course, many other predators like turkey.
He looks benign to us, but am sure to his prey he looks fearsome. He snagged our neighbor's cat right off their patio!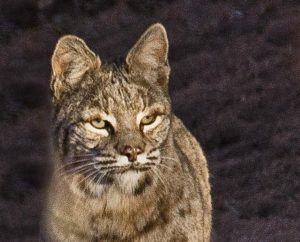 Maybe not so cute.
Bobcats love bunnies the best, and we have had a bumper crop lately, but they will eat birds, insects, small rodents and even deer if given the opportunity.
They are very adaptable predators, like coyotes, and live in almost every ecosystem from Mexico to southern Canada.
They're related to Lynx but their territories don't overlap because Lynx prefer higher latitudes and elevations. Lynx handle deep snow much better with their larger feet.
Bobcats are mostly solitary and territorial, marking their turf with urine and claw marks on trees. The spotted coat acts as camouflage. They have black tipped, stubby bobbed tails: hence the name. Ears have black tufts. Males can weigh up to 40 pounds. They live about six to eight years in the wild, longer in captivity. The reason we rarely see them, even though they are numerous, is that they are crepuscular hunters. That means they are active at dawn and dusk (although in winter they are more diurnal because their prey is out during the warmer daytime).
Besides coyotes, another possible local turkey eater is the cougar.These guys we very rarely see,but after a snow, their tracks are visible so we know they are around.
Even a big Tom turkey would be no match for a cougar.
The next post will be from Thailand. Thanks to all for the words of encouragement, we'll catch up in a few weeks.