Baja Finale
San Ignacio is a lovely palm oasis town in the middle of the desert. We camped for a pittance at Los Petates right on the lagoon. Visited the lava-block mission church, started in 1728 and finished in 1786, that dominates the town square. Under the mission on the street is a little hidey-hole from which tours to the pre-Columbian rock art sites of Sierra de San Francisco can be arranged.
We planned to go but finally decided to relax and play in the lagoon with our little inflatable instead.
In the meantime we drove the hour plus from town out to the Laguna San Ignacio to arrange a trip with a "panguero" to see the whales up close. We could have booked a tour in town but wanted to see the area first. The pangueros are the only licensed operators allowed on this lagoon.
We found Rufalo Mayorel at his home and made arrangements for a tour in two days when we all hoped the wind would stop howling on the coast. In town it's hard to know what the weather is like out on the flats bordering the coast.
On Thursday we drove back out to the coast for the tour. Unfortunately, if anything, the winds were stronger so Rufalo discouraged the trip. We appreciated his honesty. Our whale watching plans hadn't been going well. We were too far north to turn around and go back to López Mateos, our originally planned whale site, so we drove north to try Guerrero Negro again. Our last chance.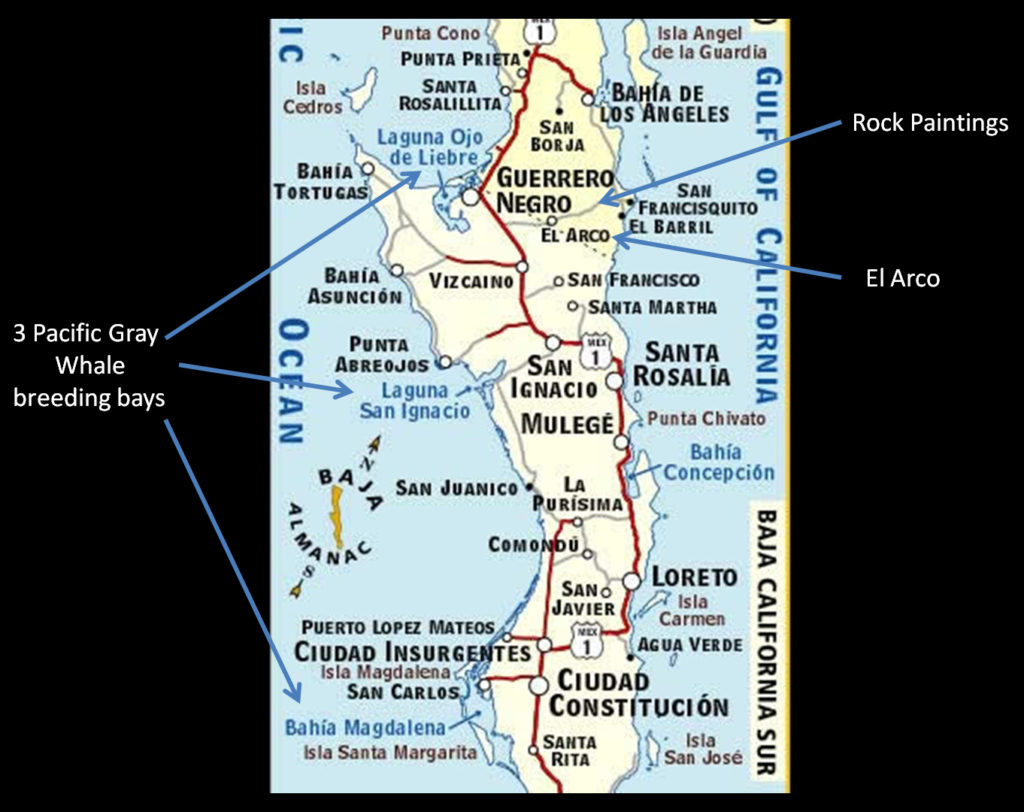 Since the journey down, some many weeks ago, there had obviously been some rain and now the desert was carpeted in flowers in some areas.
With the wind still howling we turned inland to El Arco, an old mining area. Found a nice secluded camp site and were sipping pineapple juice with tequila when the federales found us. Apparently this is a protected area (with no signs to let one know that). They demanded we leave at once, but after talking to them in my fractured Spanish they realized we weren't here with our metal detectors bent on stealing minerals so they let us stay the night.
Next morning we moved on and found an even better site with what looked like a trail we planned to explore after a short nap. Were we surprised when a guide and 3 women arrived for their rock art tour. Seems we stumbled upon a rock art site and that is where the trail went. We paid the guide his $20 and joined the tour. No one seemed to mind us staying the night, so we did. I walked back to the pictographs the next morning for my own pleasure. There were flowers and birds and cactus to entertain us also.
The site is about half-way between El Arco and  San Francisquito. According to another traveler, San Francisquito is a marvelous spot that mostly got blown away in the last hurricane and is now very quiet. If we hadn't wanted to see whales we might have taken the road up the gulf coast from there.
Guerrero Negro was a hive of activity. It's now the end of February and we got the last 2 slots for a whaling trip the next day. There are three families that control the whaling franchise and no one else is allowed on the whale lagoon. We went with Mario who also has a campground on the main highway. The other two are in town.
Drove out to the old salt loading port through wetland flats full of water birds. Guerrero Negro has (or had?) the largest salt producing operation in the world. Now the salt is floated on barges out to an offshore island and loaded for international shipments there.
The whaling day was wonderful. Wish we had had better luck with the bays further south because I think they might not have been so busy, but nevertheless, we got to see and pet the whales. These are Pacific gray whales and they are extremely friendly. Our boat was visited by at least 6 adult whales which came close enough to pet them. Their skin is soft and rubbery feeling. They hung around the boat; diving under and coming up alongside. They could tip these boats over in a minute, but never do. Unfortunately, no mothers brought their babies to show off to us, but we felt lucky to see what we did. Such lovely mammals.
But now it's nearly March and time to go home. We found our favorite campsite on the canyon rim just slightly north of Gonzaga Bay. This time it was carpeted in flowers. The only tracks visible were probably ours from the drive down. Incredible flowers. Sweet alyssum, poppies, lupine, etc, etc. Amazing and so fragrant. We hated to leave, but leave we must.
This time crossing the border at San Luis was miserable. We waited in an endless line, finally reaching the frontier after a couple of hours. Apparently we were supposed to drop off Mexican visa papers first, before crossing, but we didn't know and weren't about to wait another few hours, so we brought our papers home and mailed them to the Mexican consulate. They never answer the phone so we don't know if we are safe to go back or not. We hope so, because we would like to spend more winter time below the border one of these years.