Baja continued; around La Paz
I'd love to see a speeded up, time-lapse video of the thousands having their pictures taken with the La Paz sign.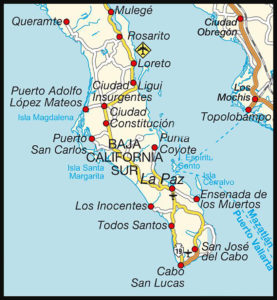 La Paz has been the capital of Baja California Sur (BCS) since statehood was granted in 1974. With a population nearing a million, it is a big city with all the amenities; even a Walmart. However, the tourist action occurs on the malecón, the beautiful bay-side waterfront walkway. Families stroll together on weekends and evenings and many come out to watch the sunsets. Restaurants, cafes and bars are busy. Many statues enhance the route.
One commemorates the black pearl trade that began in the 16th century and continued into the 20th. Nearby mining, the pearl industry and fishing kept the settlement alive long enough for tourism to take hold. La Paz is a great base for sea sports: kayaking, diving, snorkeling, fishing, swimming with whale sharks, bird watching, beach bumming, and whale watching.
Its deep water port and ferries to the mainland keep the economy booming. We didn't take advantage of the trips out to the islands offshore, but some friends in Baja at the same time report they are delightful. We did manage a day tour to swim with whale sharks.
These behemoths are gentle giants. They are huge fish, but they swim leisurely along like baleen whales with gaping maws to scoop up plankton, not tourists. The adults live farther out to sea and can get to 40 feet. The ones we swam with were juveniles, but they were big enough…about 20 feet long! Incredible animals.
We stayed at the Aquamarina RV park, right on the beach and within walking distance of the malecón. When the now aging proprietress moved there in 1956 with her new American husband the population of La Paz was 10,000. They started the first tour business taking scientists and tourists out to Isla Espiritu Santo (Holy Ghost island). There's a nice restaurant right across the street if you don't want to cook. Here we found our first parrots. Turns out there aren't any native parrots in Baja, these are descendants of escapees from S. America that have established permanent populations. Birding in Baja is entertaining, but certainly not high in unique diversity.
North of La Paz a scenic road hugs the cliffs to the small phosphate mining town of San Juan de la Costa. Along the way are rocky beaches with free camping opportunities. The road purportedly continues along the Sierra de la Giganta to the tiny fishing camp of San Evaristo. We didn't make it that far.
We highly recommend driving out to the gorgeous beaches of Balandra and Tecalote. Free camping is available at Tecalote.
We unpacked the inflatable kayak to paddle around the mangroves edging the big bay at Balandra.
Much to our surprise and delight we found a hidden channel guarded by a large egret inviting us in.
We paddled slowly along the narrow channel on clear water teeming with pipe fish and others. The bird life along the channel seemed tame. Several allowed us so close we could almost have touched them.
Eventually the channel opened up on a small hidden lagoon lined with mangroves and tall trees. The desert looms just beyond. Trees were festooned with several varieties of herons and egrets as well as white ibis and an osprey. Pelicans and cormorants fished. It was magical. We returned the next day hoping to repeat the adventure, but although still wonderful, the wildlife wasn't quite as overwhelming.
We could have spent lots more time in La Paz, but we need to work our way further south. After several wrong turns we managed to find the road out to La Ventana, a popular wind surfing beach. The wind was there, but no people…it was a weekday.
However, the wind made camping unpleasant so tried the other side of the peninsula. Much better luck at Ensenada de los Muertos (inlet of the dead). It's a sport fishing mecca with a lovely bayside restaurant and a cement slab for us to park on for free. The owners are desperately trying to rename the area Bahía de los Sueños (bay of dreams) for obvious reasons, I guess, although I don't think anyone is put off by the name.
After beachcombing awhile, we drove over the Cuesta de los Muertos, to the booming gringo town of Barriles. North of Barriles winds a multi-million dollar highway to the teeny town of El Cardonal and Punta Pescadero (fisherman's point). Someone with a lot of pull got that highway built…for what purpose we can only guess. As usual we found an unsanctioned and quite lovely place to camp near a strip of unoccupied beach houses. Barriles is famous for its wind surfing and the big wind season is November to March…a fact we were all too frequently reminded of.
We'll close the door on the La Paz area and move on around the cape for the next post.